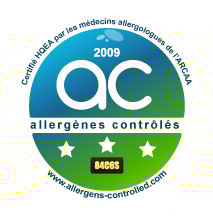 French allergy doctors from the Association for Clinical Research on Allergies and Asthma (Arcaa) unveiled a new label last month called "Allergenes Controlés" which aims to guarantee – with the help of independent laboratories – the safety of a range of consumer products for the fast-growing ranks of those who are afflicted by allergies.
Allergies affect one in every three French citizens today, compared with less than four percent of the population 40 years ago. Arcaa fears that this rate could increase to one in two people by 2020.
There is no single cause for this phenomenon. Some of the possible culprits are pollution, the arrival of more and more chemical compounds our industrialized food systems, premature weaning from breastfeeding and shorter breastfeeding times as well as the fact that doctors today are simply more aware of the allergy problem and tend to test more frequently for it.
The association hopes with the launch of the label that it can lobby the private sector more effectively to innovate and manufacture products which significantly reduce allergies in the home, office, hotel rooms, shopping malls, cars, trains and planes. Royalties from the label will be used to finance medical research.